There are three types of boilers now, combi boiler, system boiler, and heat only boiler.
A heat only boiler is working with a hot water storage cylinder. It is normally opened system by a feed and expansion cistern (smaller one compared with bigger water cistern).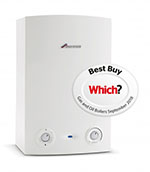 The best heat only boiler, in our opinion, is Worcester Greenstar Ri range. It is very reliable and made for purpose.